Welcome to the website of the Rylstone and District Historical Society (RDHS).
The site contains information about the Society itself as well as the Cottage Museum, local and family history research, and our Bed and Breakfast accommodation in the historic Bridge View Inn (now on Facebook).
Information on the Cottage Museum can be found here or look for us on Facebook.
If you would like to join us in exploring the fascinating history of Rylstone and the surrounding district, please go to the Membership page. New members are always welcome.
Research enquiries can be directed to our Research Officer via email at research@rylstonehistory.org.au. Further details and forms can be found on our Research Services page.
UPCOMING EVENTS:
Open Day at Tarwyn Park, Upper Bylong 31st July 2016, 10am to 2pm
The RDHS has been advised by the 'Battle for Bylong organisation' that Bylong's iconic Tarwyn Park – home of Peter Andrews' 'Natural Sequence Farming' – that a Public Open Day is planned for Sunday, 31st July 2016.
You'll get a chance to visit key parts of the property, including the historic stables (home over the years to outstanding Australian racehorses like 'Rain Lover' and 'Heroic' and several sites illustrating key aspects of the Natural Sequence Farming system. NFS practitioners will be on hand to explain how it all works and answer your questions and meet Peter Andrews OAM as well as other members of the Andrews family.
Details of the Open Day:
Gates Open 10am (no early birds) close 2pm
Admission is FREE
BYO everything (take your rubbish with you)
Food and drink is available at the Bylong General Store
Toilet facilities are available at Bylong Sportsground (NO TOILET FACILITIES AVAILABLE ON SITE).
Address for Tarwyn Park is 401 Upper Bylong Rd, Upper Bylong
Monday History Talk – 10.15am on 1st August 2016
The next 'Monday History Talk' will be presented by MWRC at Mudgee Library, 64 Market Street, and will be on Monday 1st August 2016 at 10.15am. The guest speaker will be Ruth Davis and the topic being discussed is 'Gulgong – the early days'. If you would like to attend please RSVP Rachel Carr by 29th July 2016 for catering purposes on 6378 2740 OR rachel.carr@midwestern.nsw.gov.au
Hill End Family History Open Day, Hill End, 27th August 2016, 11am to 4pm
For for information, click here: Hill End Family History Open Day
Rylstone and District Historical Society reminders:
Membership renewal was due on the 30th June 2016, if you haven't renewed please do so as soon as possible. Only financial members will be eligible to vote at the Annual General Meeting.
The Annual General Meeting for the RDHS will be held on Saturday 20th August 2016 at 2pm in the Bridge View Inn dining room and will be followed the August General Meeting.
A Bonfire and social evening will be held on the grounds of the Cottage Museum on the 20th August 2016 following the AGM and August General Meeting.  Commencing at 5pm, a sausage sizzle will be provided by RHDS as well as Tea and Coffee. Please BYO chair or rug, nibbles and drinks and anything else you may need.
Trash & Treasure Fair, the RDHS is celebrating History Week 'NEIGHBOURS' and will be holding a Trash and Treasure Fair on 10th September 2016 in the grounds of the Cottage Museum.  If you like to book a site to take part in this event please contact Anne on 0457 478 784. Sites are available for $22.
Photo Display, also on the 10th September 2016, the RDHS will be holding a Photo Display in the Bridge View Inn dining room. The display will be of old photographs of the people and the area of Rylstone in the past. It is hoped that visitors to the display will be able to assist identify familiar faces and unknown places.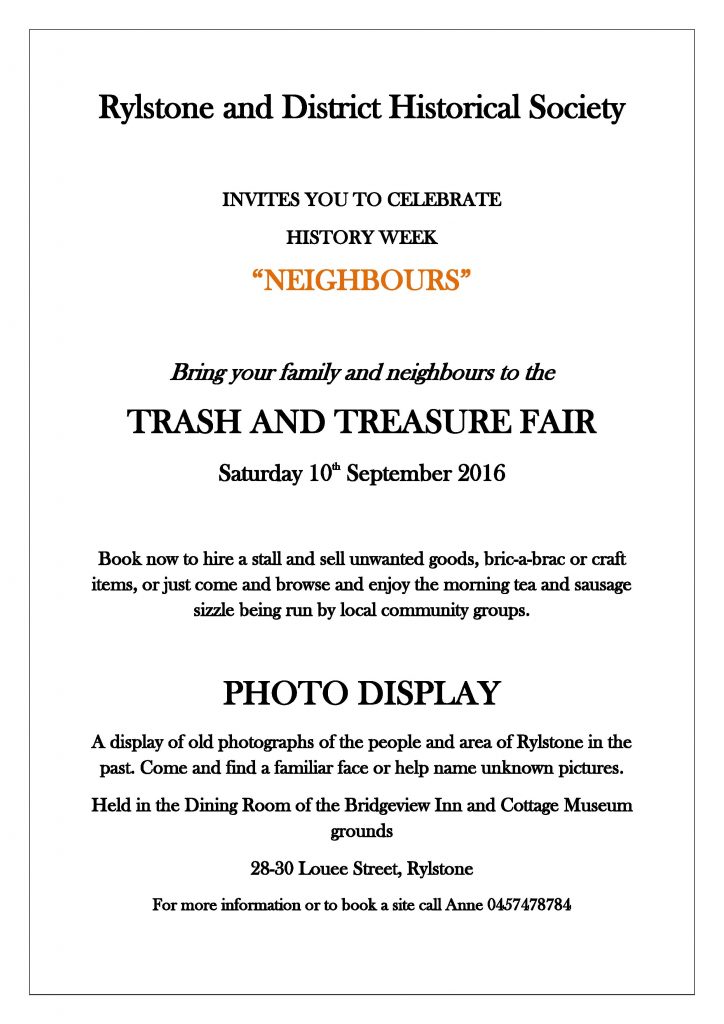 Save
Save
Save
Save
Save