Welcome to the website of the Rylstone and District Historical Society (RDHS).
The site contains information about the Society itself as well as the Cottage Museum, local and family history research, and our Bed and Breakfast accommodation in the historic Bridge View Inn.
If you would like to join us in exploring the fascinating history of Rylstone and the surrounding district, please go to the Membership page. New members are always welcome.
Research enquiries can be directed to our Research Officer via email at research@rylstonehistory.org.au . Further details and forms can be found on our Research Services page.
'STITCHES IN TIME' EXHIBITION ON NOW!!

4-11 September 2015 — Open 10am – 4pm daily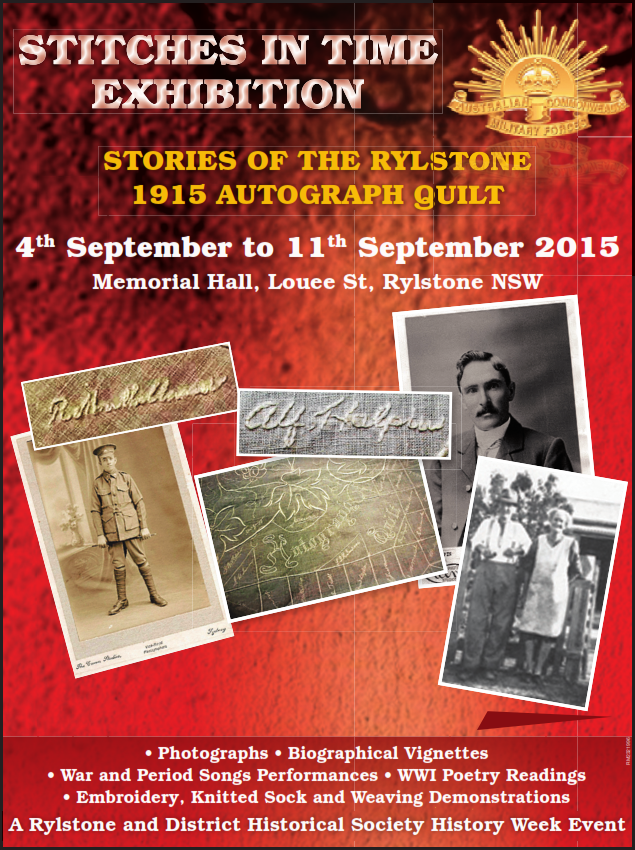 Dear RDHS Members and Friends,
You are invited to attend the opening night event for the RDHS "Stitches in Time 100 Years 1,000 Names Stories of the WWI Rylstone Autograph Quilt 1915" exhibition on Friday 4th September from 6 pm (although the exhibition will also be open that day from 10 to 4). The exhibition will be opened by Jody Broun, Executive Director of the NSW branch of the Australian Red Cross.  Plan to be there!
From the 4th to the 11th of September 2015 the exhibition, at the Memorial Hall, Louee Street, Rylstone, will celebrate the stories of soldiers and local families linked to the WWI Rylstone Autograph Quilt. This unique quilt was created 100 years ago to contribute to the fundraising campaign for the war effort and the relief of the wounded at the Dardanelles.
The exhibition will be open from 10 am to 4 pm daily. Using the signatures as the starting point, the exhibition will feature biographical vignettes, photographs and artefacts from the museum collection of Rylstone and District Historical Society, rolling projections of all the signatures, uniforms and other attractions. Hundreds of poppies have been made by local school children. Service organisations will provide morning and afternoon teas to raise funds for their own projects. A public program of demonstrations and performances is planned that will include:
The Wollemi Choir signing WWI songs
Recital of WWI Poetry daily at 2 pm
Demonstration of the style of embroidery used on the quilt
Demonstration of table loom weaving – used by soldiers as part of their rehabilitation
Knitting of army socks as done during WWI
An Official History Week Event